MuscleTech has taken this year to change the game in muscle recovery. Introducing their revolutionary and innovative trilogy of muscle building products. This stack consists of Clear Muscle, Plasma Muscle, and Phospha Muscle. All these products will use the mTor pathway to help stimulate muscle growth and show your gains beyond your wildest imagination. You can take all three of these products or a variation of the three because they all work through different mechanisms. 
Product Explanation
PLASMA MUSCLE: 
This product uses two formulas to help increase strength and energy in the gym. These increases will then affect the amount of muscle you can build. The two ingredients are called PEAK ATP and Opti-NOS. When in the gym or just generally using your muscles, the energy source your body uses is ATP. Taking Plasma muscle increases the amount of ATP in your blood levels, giving your muscles more energy and more strength. PeakATP does just this along with increase blood flow the muscles recovering/using. This will increase pumps along with overall muscle thickness. The second ingredient, Opti-NOS is a component to increase strength and endurance as well. This just means, when you are resistance training, or lifting weights, you can go longer and put up more weight.




PHOSPHA MUSCLE: 

This product uses a single ingredient as well – Phosphatidic Acid. This is a natural compound found in the body but when taken in supplement form, it has shown amazing results in the muscle building process. This ingredient can increase protein synthesis up to 6x normal rate but the most amazing thing is that it can do this for a duration of 6 hours post workout. On top of this benefit, the ingridients found in PhosphaMuscle allow your body to absorb and digest creatine more efficiently. Just like Clear Muscle, taking this product will increase protein synthesis and result in more muscle gain.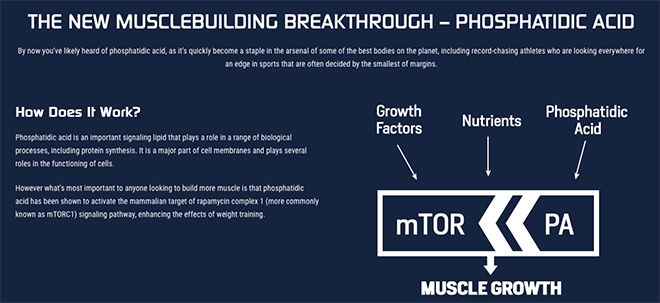 CLEAR MUSCLE: 
This product too, has one single ingredient, HMB. This ingredient has been around for quite some time however Muscletech owns a patented form of this ingredient, called BetaTOR. This is a free acid version of this that is not bonded to any other molecule. The traditional HMB is bonded to a calcium salt molecule which is usually in a white chalky powder. BetaTor comes in liquid capsules which allows your body to digest it more efficiently and thus, faster. Now lets go over what HMB is and how it works. HMB is a metabolite of the branch chain amino acid leucine. When taking this extremely anabolic ingredient in supplement form, it will allow you to increase your protein synthesis so you recover faster and become stronger with more muscle in a very short amount of time.