What Is It Cellucor CLK was one of the best products out on the market and now, with the 4th Generation, it got even better. With a more updated formula, this STIMULANT FREE Fat Burner will help you reach your weight loss goals faster than ever. CLK will help suppress your appetite, manage your weight, and tone your body out.


How It Works:  We all know the success people have had using the single ingredients,  CLA, Raspberry Ketones and Carnitine. This supplement has all of those...and more. Introducing the first supplement with Slimpro®. This is a Protein Hydroslate that will trigger the body to feel "full" allowing your food urges to be minimized. This product work alone and even better when you pair it with a stim based fat burner (i.e. Cellucor Super HD).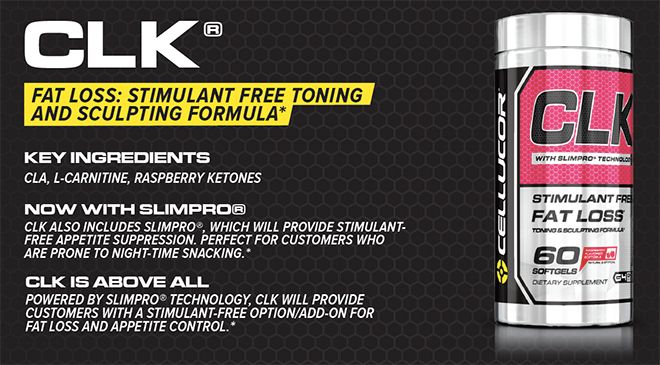 Use: Take one serving (3 softgels) in the morning and one sreving (3 softgels) in the afternoon. DO NOT EXCEED 6 SOFTGELS PER DAY. USE ONLY AS DIRECTED.
CLA: signals for the body to utilize stored body fat for energy, supports preservation of lean body mass
L-Carnitine Tartrate: helps body burn fat during exercise, important substrate in many brain functions
Raspberry Ketones: helps prevent fat gain and promotes usage of stored body fat
Slimpro: increases insulin sensitivity, signals for GLP-1 and CCK to suppress appetite